Has the Pandemic Made It Easier to Lead Like Jesus?
Has the Pandemic Made It Easier to Lead Like Jesus?
The months since March of 2020 have been hard for everyone. It's been a grueling season of tragedy, isolation, anxiety, fear, anger, uncertainty, division, death, and disruption. For most church leaders, it's been utterly exhausting. We've lived in "dog years," caring for scattered flocks and wrestling with decisions we never even realized were decisions like, "Should we gather for worship on Sunday?" However, this prolonged period of disruption has also created the opportunity to honestly re-evaluate what matters most for God's Kingdom and imagine and prepare for an extraordinary future.
A remarkable feature of the pandemic was that it instantly deprived us of our ability to count. We still had our fingers and toes, but suddenly there weren't people to count in churches across the land. We struggled to make sense of vague new metrics like "connections" and "views," yet the church carried on! This was deeply liberating! For far too long, church leaders and members alike have been far too concerned with headcount as the measure of ministry effectiveness and Kingdom impact.
We count things because counting is easy. We naturally start counting whatever's in front of us as children. In church life, we count the number in worship, in small groups, in Sunday School, in Youth Group, and at events. We pat ourselves on the back if numbers rise and we beat ourselves (or others) up if numbers fall. We mean well. After all, we all want to see God's Kingdom grow and more people come to know Jesus. Nonetheless, our fascination with counting people has often been both unbiblical and profoundly unhealthy (just ask King David about counting people!). Too often, the tyranny of numbers distracted us from what we've been called to do as disciple makers.
Our concern for raw numbers distances us from the leadership example of Jesus. A reading of John chapter 6 illustrates this dynamic. Jesus loved the crowd and clearly someone counted heads! Throughout His ministry, Jesus had compassion on the gathered masses, feeding and healing all who came. He preached to and taught anyone who would listen and many who wouldn't. Yet Jesus never defined His ministry or success by attendance. Those were defined exclusively by obedience to His Father. Jesus knew the crowds would quickly vanish, as they did by the end of chapter 6.
Jesus refused to build the future advance of His Kingdom and spread of the Gospel on the sandy foundation of crowds. Rather, He built twenty centuries of the church on deep investment in a relative handful of His most faithful and faith-filled followers. Jesus preached to thousands, healed hundreds, taught dozens, invested deeply in twelve, and revealed special wonders to three. His leadership approach changed the world, and we would be wise to follow it!
Jesus' global strategy wasn't built on headcount, but on radically transforming those few heads willing to truly leave everything behind to follow Him wherever He leads. As we study both the Bible and church history, we see that Kingdom fruitfulness flows from the relative handful of Christians in each generation who fully commit every aspect of their lives to Christ. Those bearing fruit 30, 60, and 100-fold spark movements that reach millions and transform nations.
As church leaders, how can we learn from the leadership of Jesus and the history of His church? How have the changes your church has experienced this past year and half made it easier to see beyond our human fascination with numbers to more clearly understand the leadership pattern of Jesus? How can you and I love, pursue, care for, teach, and preach to the crowds that are gradually regathering (or continuing to gather online), while intentionally investing in equipping and unleashing the relative handful whom God's Spirit grabs ahold of with a burning fire to spread the Gospel? What if the most effective way to reach many is to minister deeply to a few? Who are those few in your church or your life in whom God is calling you to invest?
Honestly, these shouldn't be new questions for us! However, the busyness of pre-COVID church life often blinded us to them. Too often, we instinctively substituted busyness for effectiveness, headcount for discipleship, and numerical growth for spiritual growth. One of the beautiful realities of this present moment is that those distractions have been temporarily stripped away. Since last March, the Kingdom of God has moved forward in exciting and innovative ways even when there were relatively few people in our churches. How can we draw energy and inspiration from this, even as our sanctuaries gradually refill?
Instead of fretting about how to get a few more heads into children's ministries, youth programs, or worship services, let's ask ourselves and each other how we can be more faithful with those few God has entrusted to us? If only a portion of our previous numbers re-engage in a ministry, rather than becoming discouraged, let us be encouraged to do everything we can to help them fall more passionately in love with Jesus, engage them in deep discipleship, and send them out into a world that desperately needs new and effective ways to reach those distant from God!
As we reimagine ministry in the turbulent 2020's, how do we invest deeply in a few without neglecting the ministry and care of the many? How do we invest deeply in a few while providing "on ramps" that invite members of "the many" to become one of "the few" as the Spirit moves within them? These were the questions we were suddenly freed to wrestle with during the loneliest days of the lockdown, and they remain urgently relevant today. Rather than lament diminished numbers, let us celebrate those whom God had brought together, prayerfully investing in them with a Great Commission vision just as Jesus did!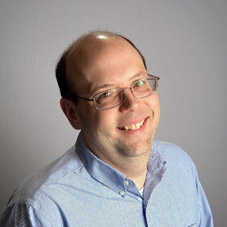 Brian Burdett is Senior Pastor at Lake Ridge Baptist Church and currently serves on NorthStar's Board of Directors.