Plants that Preach
On a recent hike through the woods of a nearby park, I was reminded how infinitely imaginative our Creator God truly is. I caught a glimpse of the beautiful, migratory Yellow-Rumped Warbler, and it stirred in me a desire to praise God, "Lord, You know the origins of this beautiful bird and how far it has flown from South America, and You know exactly where it is going from here. You are amazing, God!"
Then I came upon the most unusual looking plant. On each stem were three leaves. (For those of you who recall the expression, "leaves of three, let it be," no, it was not poison ivy.) What made the plant so unusual was its flower.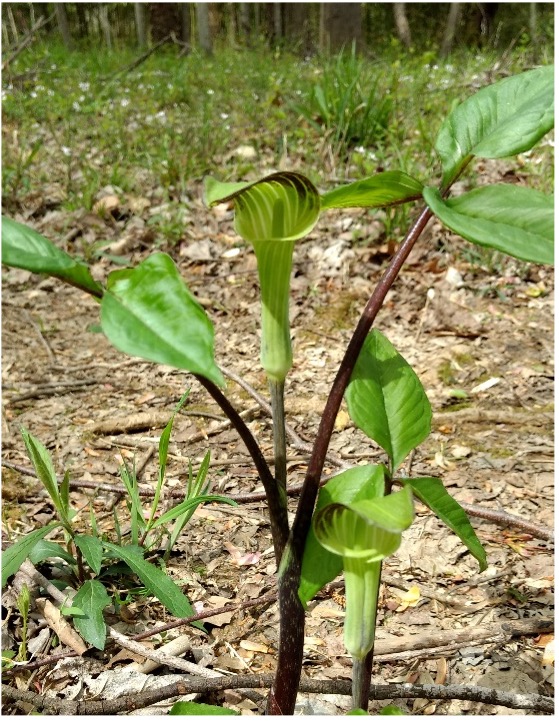 The flower was green like rest of the plant, had a tubular shape, and was covered by a broad, leafy flap. Out of curiosity I gently lifted the flap and was delighted to find what I expected—the preacher! The plant as a whole resembles a preacher in the high pulpit of churches years ago and is commonly called "Jack in the Pulpit." At that moment, I felt both gratitude and conviction, because this plant was a stark reminder of my responsibility and privilege as a disciple of Jesus: to make disciples by preaching and teaching God's Word and proclaiming the gospel of Jesus.
As I hiked my way out of the woods, I began to think about other plants in our part of the country that "preach." The Dogwood blossom symbolizes Jesus' crucifixion with a red marking on each of its four petals to represent Jesus' blood as He hung on the cross in our place. There is also the Passion Vine, so named because its intricate, purple flowers can be used to describe the Passion of Christ.
It is not just the plants and their flowers that "preach." As Romans 1:20 clearly states, all of God's creation reveals Him and His attributes. Psalm 19:1-4 describes how creation declares the glory of God without saying a single word. Since I too am created by God, what does my life reveal about Him? When people see me, what do they discover about God? Just seeing me is not enough for them to understand God's purpose for them. Those around me must also hear about God from me, for it is not the responsibility of plants to preach, but mine.
I emerged from the woods that day challenged by the plants that preach and affirmed by God to never cease to be an intentional and active disciple-maker for Jesus.
Are you interested in a hike, doing some bird watching, or better yet, learning how to be a disciple of Jesus who personally makes disciples of Jesus? I invite you to join me by contacting me at .
Erik Wilkins is the Next Steps Pastor at First Baptist Church of Woodbridge and is currently on the NorthStar Board of Directors.